3 top tips for perfect party peepers
As the festive season rapidly approaches it's time to start experimenting with some daring new makeup looks that are guaranteed to make you stand out from the crowd this Christmas! The most sparkly time of year most certainly deserves eye makeup to match, which is why we've put together some top tips for perfect party peepers.
1. Add some sparkle with a glamorous glitter look
The glitter trend isn't for everyone and applying it can be a little more complicated than your usual eye shadow; however, with our helpful tips you'll be sure to pull it off with ease and confidence!
If you wear contact lenses, be sure to put them in before applying any makeup to avoid getting mascara or glitter on them. Although it may seem obvious, stay away from the leftover glitter from your crafting kit! It's important that you apply cosmetic glitter to avoid irritating your skin.
Before you apply the glitter, make sure you use a primer first to prevent any fading and creasing, ensuring your beautiful makeup lasts longer. Finally, avoid a makeup meltdown by investing in a setting spray to keep your glitter intact all night long.
2. Dazzle on the dance floor with 1-DAY ACUVUE® DEFINE® Brand Contact Lenses
If you want to go all out this Christmas why not try 1-DAY ACUVUE® DEFINE®? Although the effects are subtle, these lenses will correct your vision whilst simultaneously accentuating the appearance of your eyes, without actually changing your eye colour.
These lenses come in two variations:
NATURAL SPARKLE is designed for lighter eyes and adds a brightening, luminous boost. If your eyes are dark, these lenses will provide soft highlights.
NATURAL SHIMMER offers depth and intensity. If your eyes are light, these lenses provide a bold, striking look, while dark eyes are given a more subtle contrast.
Once you've picked the lens that's right for you, it's time to open up the glitter!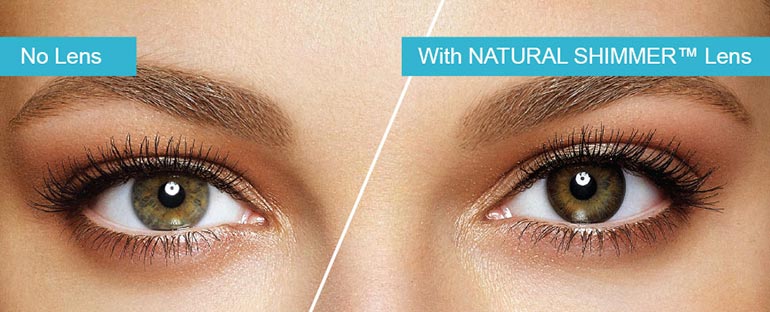 If you're interested in trying 1-DAY ACUVUE® DEFINE®, visit your Optician to discuss whether they are suitable for your eyes. If you have bought lenses at Lenstore you are entitled to a FREE eye test and contact lens fitting at any Vision Express in the UK.
3) Line your lashes for elegant eyes
Winged eyeliner is all the rage at the moment, despite being a look that baffles many. The truth is, once you've mastered the basics it's actually very easy to apply and can make for a sleek, sultry style.
Once you've chosen your favourite type of eyeliner, start with a thin line at the inner corner (near the tear duct) and get thicker as you move towards the outer corner. Slant your line towards the end of your eyebrow to get the wing.
Remember that practice makes perfect and you may have to try a few times before you get your desired look.
Removing your eye makeup always proves to be a little more difficult than applying it, but make sure to be gentle so that you don't irritate the skin around your eyes.