Eye makeup tips for the summer
Whether you're off on holiday or are just determined to make the best out of the Great British Summer, ensure your look remains flawless and on-trend throughout with these simple eye makeup tips.
Keep it simple by day
The last thing you want to worry about whilst relaxing by the pool is reapplying your lipstick or smudging your mascara. It's easy to look overdone in bright, natural lighting so keep makeup to a minimum and let your natural beauty shine through.
Wear a neutral taupe or vanilla eye shadow on your lids to create a natural, even colour, or a slick of Vaseline to provide a flattering shine. Skip foundation and stick to concealer, which will allow your skin to breathe whilst still covering those pesky under-eye bags. And always, always remember your SPF!
Heat-proof your makeup
The more you sweat, the more you'll find that makeup doesn't stay put for long. Invest in a quality eye makeup primer to keep your eye shadow in place for longer.
Can't get enough of statement eyes, but still want to make the most of that pool? Try a high quality waterproof mascara, which will allow you to go swimming without running the risk of panda eyes.
Take inspiration from the catwalk
Make an on-trend impression with your night-time eye makeup by recreating one of these three key looks:
1. Futuristic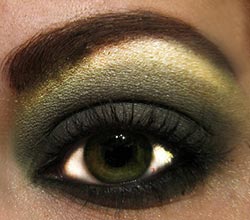 Alternatively, the summer season is the perfect time to test out some of the bolder looks which have been featured on the catwalk recently. Bold strokes of jade and sapphire on the lash line have been popular on numerous catwalks, from Michael Kors to Donna Karan.
Wearing coloured contact lenses takes the trend one step further and is a fun and easy way to experiment with your look. A wide range of shades is available to buy from our coloured contact lens collection at Lenstore.
2. Grunge
If you're more of a grunge girl, you're in luck – dramatic looks packed with attitude are looking to be a huge trend for summer. Smudged eyeliner and layers of volume-building mascara really make eyes stand out.
3. Sixties
Huge, fluttering eyelashes (try false ones for an even more dramatic effect), lashings of black kohl and sweeping gel flicks to frame the eyes will create a twiggy-esque vibe.
Choose warm colours
Whilst winter is all about rich berries and charcoal eyes, summer loves molten metallics and flattering peaches. Choose shades of brown in cream formulas rather than powders, which can crease and transfer easily in the heat. Using liquid rather than pencil eyeliner ensures that your makeup stays put all night long, allowing you to enjoy your summer in style!