Show off a fresh new festival look with 1-DAY ACUVUE DEFINE
Summer festivals make the perfect stage for turning heads with a fresh new look. The festival atmosphere gives you a great opportunity to mix things up with bold makeup, hairstyles, and even the appearance of your eyes.
1-DAY ACUVUE® DEFINE® Brand Contact Lenses have become one of the new beauty secrets of the year. These innovative lenses correct vision as well as enhance the appearance of eyes - without actually changing your eye colour. A unique, iris-inspired design accentuates the natural radiance, while a combination of light effect patterns helps brighten the appearance of your eyes.
Creating Your Festival Look
You should always apply your lenses before applying makeup - opt for 1-DAY ACUVUE® DEFINE® in NATURAL SPARKLE™ to give your eyes a brightening boost! If you're heading to a festival, make sure that your hands are clean before applying lenses or eye makeup.
All about the base...
Without the luxury of carrying round a full make up bag, dab concealer under the eyes before using a tinted moisturiser to help give you a dewy base - perfect for dancing in the sunshine.
Get the brow know how...
Brows frame the eyes and shouldn't be overlooked when it comes to festival glam. For a quick brow fix, use a brow gel and apply in soft, neat strokes from the inner to the outer part of the brow. Gently comb through to soften the look and then use a clear brow gel to keep your brows in place.

Now add a shimmer...
Next it's time for a sun kissed glow. You can achieve this by applying bronzer to the hollows of your cheeks with a mini blusher brush.

And sparkle...
To add a subtle radiance to your eyes, apply a cream eye shadow as it can last all day and is also suitable for contact lens wearers as it's less likely to get in your eyes.

A final flick...
Get wow with winged eyeliner! Creating this look can be tricky, so use a gel or liquid liner, mark where you want your flick to finish, and use as a guide when applying your liner to the lash line.

...and if you're feeling confident
Use an electric blue pencil on the lower lash line to give your eyes a pop of colour.
To finish off your new look, there's two ways you can go:

Go for a bold lip...
Keep your look young and fun by using a strong pink lip colour - matte will complement your luminous complexion and help the colour last.

...or a demure nude
Alternatively, try a natural lip to keep all attention on your eyes.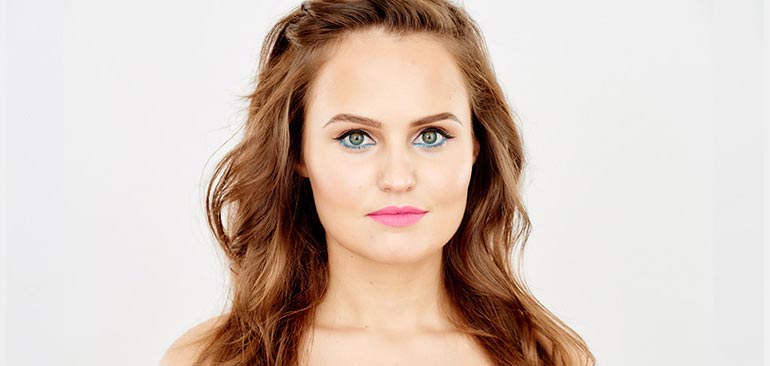 Should You Shimmer Or Sparkle?

1-DAY ACUVUE® DEFINE® Brand Contact Lenses come in two variants - NATURAL SHIMMER™ and NATURAL SPARKLE™. Depending on your eye colour, each type can give you a different look to suit your appearance.
NATURAL SPARKLE™ lenses give light eyes a brightening effect with heightened contrast, while giving medium eyes (such as green) slightly softer highlights for added dimension. Wearers with dark eyes can expect to see lighter contrasting with more subtle brightening.
NATURAL SHIMMER™ lenses give high impact sharpness and highlights to light eyes. Medium eyes are given added depth, while dark eyes gain subtle highlights and contrast.
How Does ACUVUE® DEFINE® Enhance Your Natural Beauty?
As your eyes age, the dark edge of your iris gradually fades away. This is called the limbal ring, often referred to as "nature's eye-liner".
1-DAY ACUVUE® DEFINE® lenses help to enhance the natural appearance and brightness of your eyes. Research has shown that people are more attracted to women and men with limbal rings, as they are associated with a healthy and youthful appearance.1
The iris-inspired designs help to add natural-looking depth and dimension to your eyes, without actually changing eye colour. Check out the video below, and learn more about how ACUVUE® DEFINE® can enhance your natural beauty.
1 PESHEK, D. et al. Preliminary evidence that the limbal ring influences facial attractiveness. Evolutionary Psychology. 2011, 9(2): 137-146 ACUVUE®, 1-Day ACUVUE® DEFINE®, NATURAL SHIMMER™, NATURAL SPARKLE™ and LACREON® are registered trademarks of Johnson & Johnson Medical Ltd.
Promotional Article