Hitting your 40s doesn't mean giving up contact lenses
Once you hit your 40s, your vision begins to change. Small text and details in low-lighting become more difficult to see clearly. This is usually due to a condition called presbyopia. It is one of the most common eye conditions and absolutely nothing to worry about. Everyone will get it at some point.
While reading and multifocal glasses are an option, this doesn't mean you have to say goodbye to your contact lenses. Contact lenses have come a long way since the '70s and lens wearers can now enjoy clear vision no matter what the distance, all with the same pair of lenses.
What is presbyopia?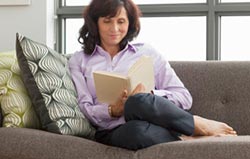 Presbyopia occurs naturally with age, when the lens in your eye becomes less flexible. As your lens gradually hardens over time, it becomes increasingly difficult to focus on close-up objects. This can make everyday activities such as reading your messages on your phone more difficult, as small text appears blurry.
Headaches and eye strain are also common symptoms of presbyopia, if not corrected.
How can it be treated?
Although presbyopia cannot be prevented, there are plenty of options available to help you see clearly again. Reading or varifocal glasses are the most common solution, but there are other, more convenient ways to correct your vision without any interference to your lifestyle.
If you already wear contact lenses, multifocal lenses mean almost no change to your lifestyle. They allow you to see clearly at different distances, and you don't have to carry around a pair of glasses to read your messages on your phone.
Introducing 1-DAY ACUVUE® MOIST Brand MULTIFOCAL Contact Lenses
1-DAY ACUVUE® MOIST MULTIFOCAL is a recent addition to the popular 1-DAY ACUVUE® Brand Contact Lenses range, specifically designed for those with presbyopia. You can experience clear vision at any distance without reading glasses, from morning through to night. Since they are made with the same technology as 1-DAY ACUVUE®MOIST lenses, you can expect the usual comfort from one of the world's leading contact lens brands.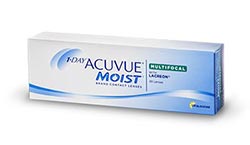 They're ideal for those with a busy lifestyle, with no need to clean or store the lenses. You simply dispose of them after each wear and replace with a new pair, making them both a convenient and hygienic option.
To learn more about presbyopia, and to get a free trial of 1-DAY ACUVUE® MOIST MULTIFOCAL, arrange a visit with your optician. If you buy your contact lenses from Lenstore, you can book a free eye test and contact lens check at any UK Vision Express store - just click on the button below to get started.
ACUVUE®, 1-DAY ACUVUE® MOIST MULTIFOCAL and THE LENS THAT CHANGES EVERYTHING™ are trademarks of Johnson & Johnson Medical Limited. © Johnson & Johnson Medical Ltd. 2016. 04MarUK1585.
*Sponsored by Acuvue*