Why we cry: the science behind being a cry-baby
We never had to be taught how to cry, the instinct came naturally to us almost as soon as we were born. Does this mean that humans are just naturally pessimistic, or is crying actually beneficial?
First, let me talk a little about tears.
Different kinds of tears
No, you read that right. Scientifically speaking, there are three different kinds of tears:
Basal tears. Believe it or not, these tears are always present in our eyes. They help lubricate the surface, and clear out any dust that may come into contact with the eye. If you suffer from dry eye, it is usually because of either poor quality basal tears or not enough of these tears being produced. These tears don't usually fall from the eyes, but remain in place across the eyeball.
Reflex tears. These are produced when your eye is irritated. Have you ever felt your eyes water after chopping an onion, or standing in a smoky environment? This watering is your reflex tears flushing out the foreign objects (particles of dust and bacteria), to protect your eye.
Psychic tears. These are what everyone automatically thinks of when they think of tears. They are produced when you have an emotional response to something. This category can be segmented even further into the different types of emotional crying; sad crying, stress crying, and happy crying as a few examples.
Why do we cry?
Basal and reflex tears are an example of "lacrimation", meaning that the tears are not shed in response to an emotion. These are simply a way of your eyes protecting themselves. Psychic tears, however, surely serve no purpose?
There's no denying that you feel better after a good cry, but have you ever wondered why?
Other than the psychological benefits, the tears produced as a result of emotion have shown to contain painkilling properties, as they release endorphins. They also have been shown to contain hormones that cause stress, indicating that crying releases this stress from the body. These tears differ from basal and reflex tears, which are 98% water.
All tears contain water, oil, and antibodies. However, photographer Rose-Lynn Fisher discovered that the structure that these properties are arranged in, differ depending on the type of tear. This not only goes for the three different types mentioned above, but also varied in the different emotional tears. In her series of microscopic photographs, Fisher highlights that tears of grief are very sparsely arranged, whereas tears of laughter are much more jumbled.
Do animals cry?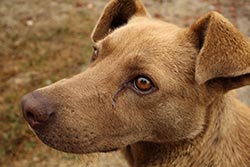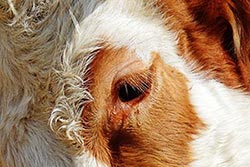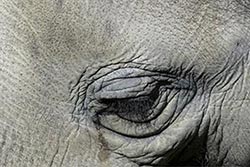 Most mammals produce basal and reflex tears in a similar way to humans to protect their eyes. You might see tears falling from an animal's eyes, but are they really feeling sad?
Well, you can't exactly ask them, and expect them to tell you.
Using various behaviour experiments, psychologists and biologists have determined that some animals do experience emotions, and they may perhaps be intense enough to induce tears. Similarly, brain scans show similarities between human emotional reactions and animal emotional reactions. This is particularly true of chimpanzees.
So, maybe The-Artist-Formerly-Known-As-Prince was right, and doves actually do cry. But until animals learn to talk, we just won't know for sure if the tears they're crying are emotional or just the result of dry eyes.