Lenstore founder visits No. 10 Downing Street
Lenstore's founder, Mitesh Patel, recently attended a garden party at No.10 Downing Street to celebrate small businesses in the UK. Mitesh's impressive entrepreneurial success scored him an invite alongside famous names such as James Caan from Dragons' Den, George Osborne and Vince Cable.
Two speeches by Vince Cable and David Cameron kickstarted the event. Mr. Cable discussed the importance of encouraging business to first-time entrepreneurs. He similarly congratulated the government's apprenticeship scheme. In his speech, Mr. Cameron thanked everyone present for their contribution to UK business in the global economic race – and for providing more jobs to British people.
Mitesh had a very stimulating conversation with Neill Ricketts, Chief Executive of Versarien Ltd, about the government's apprenticeship scheme. He was interested to learn that Versarien Ltd employs 30% of its staff through the scheme and is now considering this as an option for his own business.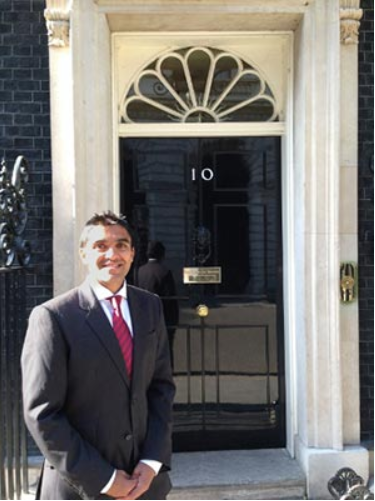 During an engaging discussion on the pros and cons of external investment, Mitesh was able to share his expertise with the group based on his experience with one of Lenstore's external investors, Keith Potts, CEO of Evenbase and Jobsite. Mitesh and Keith have also been interviewed for an article in Elite Business Magazine on securing business investment.
One MP was interested to find out how Mitesh thinks the government can improve its support for small businesses in the UK. Unquestionably for Mitesh, it is to expose young people in schools to business and entrepreneurship.
According to numerous studies, children are significantly more likely to express an interest in business if their parents or close family members are entrepreneurs themselves. Mitesh firmly believes that educating and exciting young people about business is the key to encouraging investment in the UK, to ensure that entrepreneurs are building their businesses with long term views.
To shake the hand of the Prime Minister and be congratulated on his entrepreneurial successes was a very proud moment for Mitesh. He hopes that he has managed to influence the debate, and eagerly awaits his second invite to Downing Street - although he suspects that he has peaked too soon, having met both Sir Richard Branson and David Cameron in the space of just one month!