The Financial Times visit Lenstore's very own 'Downton Abbey'
Lenstore is tucked away at the end of a cul-de-sac in a South Wimbledon industrial park. From the outside, it might not strike you as the type to ooze Victorian glamour. A quick peek inside, and you might just change your mind.
Annexed to the main building is the home of the marketing team – a portakabin that was once used as the changing room for a local football team. From these humble beginnings comes a great office space, and after a grand facelift it is now distinguished enough to have attracted the attention of the Financial Times.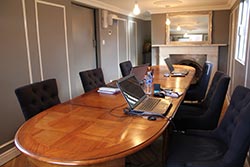 Now complete with a Georgian fire place, a 7 piece dining table and wooden parquet floor with underfloor heating, the portakabin is an impressive example of upcycling at its best. At Lenstore we have affectionately named it our very own 'Downton Abbey'.
Mitesh Patel, founder of Lenstore, was lucky enough to inherit 'Downton Abbey' from a friend who transformed the portakabin on a small budget. Incredibly, the project cost £2,000 less than if he had bought a regular cabin. 
The reason for taking over 'Downton Abbey', aside from its obvious charm, was to house the ever-expanding Lenstore team. As one of the fastest growing startups in the country, Lenstore has doubled in size over the last 18 months. Mitesh wanted to keep all the arms and legs of Lenstore working together in union, and so splitting the company across different locations wasn't an option.
"I thought, where better to house the creative brain of the organisation, the marketing team, than in Lenstore's very own Downton Abbey?" says Mitesh.
Having attended a conference at Google's headquarters just a few weeks earlier, Mitesh caught a glimpse of the famously illustrious workspace they offer their employees. Lenstore's Downton Abbey isn't a far stretch from Google's innovative working spaces, which are aimed to preserve the feeling of a startup and encourage creative thinking. 
It certainly inspired Jonathan Moules from the Financial Times in his article 'UK start-ups acquire a taste for the unusual in their addresses'. He and his camera crew recently came down to Lenstore to interview Mitesh about our unusual workspace.