The ultimate three course meal for healthy eyes
We all know the drill: following a regimented contact lens care routine and having regular eye checks with your Optician is the best way to care about your eyes. However, not many people know that certain foods can also do wonders for your vision. Including "eye foods" in your daily meal plan will protect you against eye conditions and diseases, and give your overall health a boost.
To encourage you to take care of your eyes and eat healthily, we've compiled a list of three foods that enhance your eyesight. We've even gone one better, and included a few easy recipes to help you integrate them in your diet.
1. Carrots
It's a common belief that carrots help you see in the dark. Granted, they may not provide you with nocturnal vision to rival bats, but they're actually highly beneficial for your eyesight. This is because they contain Beta-carotene, a form of vitamin A that helps the retina and other parts of the eye function smoothly (as well as giving carrots their vibrant colour).
Here's BBC Good Food's simple recipe for carrot and coriander soup, which only takes 10 minutes to prepare, and feeds four people.
Heat 2 tablespoons of oil in a large pan.
Add half an onion and fry for 5 minutes, until softened.
Stir in a handful of ground coriander, and leave to cook for 1 minute.
Throw in 450g of finely chopped  carrots and 1 vegetable stock cube, bring to the boil, and reduce the heat.
Cover and cook for 20 minutes, until the carrots are tender.
Transfer the contents of the pan into a blender, and blitz until you obtain a smooth mixture.
Pour your soup back into a pot. Reheat it to your liking, serve and enjoy!
2. Kidney Beans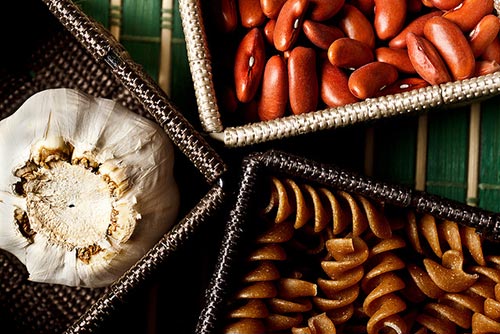 Kidney beans are a source of zinc, a mineral that enhances eye health.
Time for a quick science lesson: zinc helps your retina retrieve vitamin A from your liver, and produce an eye-protecting substance called melanin. It also boosts night vision, and prevents the development of eye conditions such as cataracts or age-related macular degeneration (AMD).
Try introducing kidney beans in your diet by making this pasta salad for two. It's a great option for a packed lunch, or a cold meal on a hot summer day.
Cook 200g pasta, as per the instructions on the pack. When the pasta is ready, drain it, and rinse it with cold water to make it cool more quickly.
In a bowl, mix 1 tin of kidney beans, 1 tin of drained tuna fish and 75g of diced mozzarella.
Add the cooked pasta. Drizzle with olive oil, season with salt and pepper, and mix well.
Set aside in the fridge for at least 2 hours. Serve cold.
3. Spinach
Lutein is a natural pigment with many antioxidant properties, found in abundance in dark, leafy greens such as spinach and kale.
One of the healthiest substances for your vision, Lutein helps decrease the risk of developing AMD. Although your eyes contain a limited amount of lutein, your body doesn't produce it, so it's important to ingest as much as possible of it through your diet.
Research suggests that you need between 6 and 10 milligrams of lutein per day to boost your eye health. You can reach your daily quota easily by including spinach in your diet: 1/2 cup of cooked spinach contains 10.2 mg of lutein.
Spinach is a versatile ingredient for tasty side dishes and fresh salads. If you want to get creative but don't have much time to cook, you can experiment with quick and easy recipes such as this one.
Heat 2 tablespoons of oil in a pan. Add 400g baby spinach and a garlic clove, and cook for 5 – 10 minutes.
Roast 50g walnuts or pine nuts in a non-stick pan for 5 minutes, then mix them with the spinach.
Season with salt and pepper and remove the garlic clove. Serve while still warm, as a side to your main course.
These simple recipes are ideal to suit all tastes and all times of the year. Try them in your kitchen to develop the cooking skills of Gordon Ramsay, and the eyesight of a superhero.