Welsh government urges people to visit their local opticians
The Welsh government has begun a drive to encourage people with eye problems to visit their local Optician, rather than General Practitioners or Accident and Emergency departments.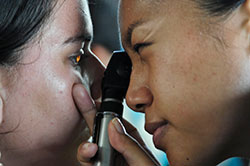 Deputy Health Minister Vaughan Gething believes that people are not aware of the full range of healthcare services available to them, prompting this latest drive to visit opticians for eye problems. Gething claims that many members of the public will dial 999, when visiting an optometrist is more suited to the problem. 
Welsh ambulance units claimed to have received double the amount of eye care-related calls since 1991. Similarly, Accident and Emergency departments have seen a 7% rise in the past five years.
Opticians do not charge for problems that require urgent attention, and patients do not have to be registered to be seen. The campaign has seen support from Sight Cymru, Wales Council for the Blind, Public Health Wales and Optometry Wales.