Shock as surgeons remove 27 contact lenses from woman's eye
Never before has the importance of having regular eye tests and contact lens check-ups been more evident.
A woman going for a check-up before having cataract surgery was discovered to have 27 contact lenses stuck in her eye.
The 67 year old had just thought she had been suffering from dry eye and declining vision due to old age. Surgeons were shocked as they discovered a strange "bluish mass" on her eye to be 17 contact lenses. 10 additional contact lenses were later discovered in the same eye.
Rupal Morjaria, the author of the case study published in the BMJ, feels that this could have been avoided if the woman had attended regular check-ups.
 "Contact lenses are used all the time, but if they are not appropriately monitored we see people with serious eye infections that can cause them to lose their sight," Morjaria states.
The woman thought the lenses had simply fallen out when she could no longer find them in her eye. In fact, they had been accumulating behind her eyelid.
The woman has since said her eyes are feeling much better. She later proceeded with her postponed cataract surgery.
How to know if a contact lens is stuck in your eye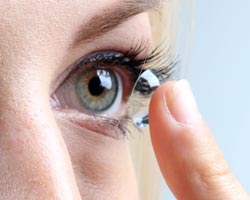 If you expect to remove your contact lens and you can't seem to find it, it may have just fallen out. However, there is a chance it may be stuck behind your eyelid. Contact lenses cannot travel behind your eye.
If a contact lens is stuck in your eye, you may experience discomfort and redness.
Wearing contact lenses for any amount of time longer than recommended limits the amount of oxygen reaching the eye, which can cause it to become red and sore. It can also open you up to numerous eye infections.
How to remove a contact lens that is stuck in your eye
Please note: if your eye becomes red or sore when trying to remove a misplaced lens, seek the help of your optician to avoid injury to the cornea.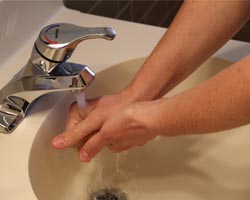 As stated by the American Academy of Ophthalmology.
First, wash and dry your hands.

Relax your eyelid and try to feel the lens through the eyelid.

You may be able to wash the lens out, using sterile saline or artificial tears.

If you are able to see part of the lens when looking in a mirror, you may be able to slide it down back over the cornea. From here, you can remove it as normal. It may help to look down as far as you can.

You may also be able to move the lens down by either massaging the outside of the eyelid towards the cornea.

If you feel you are unable to remove the lens yourself, visit your optician as soon as possible.
If you are a Lenstore customer in the UK, you can book an eye test and contact lens check-up completely free. Book a free test now.