The most accessible games for the Visually-Impaired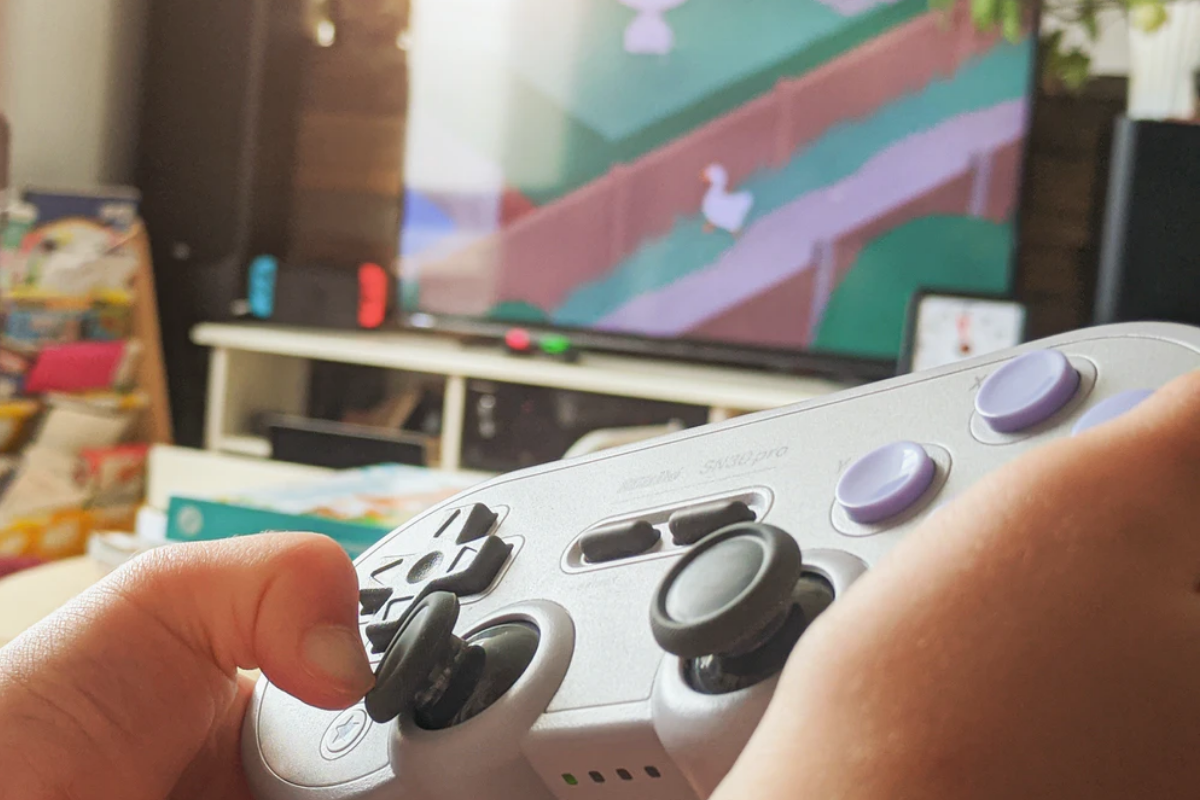 Board games and video games are often created with those with perfect vision in mind. Whether it's small text, colours that don't support those with limited colour vision, or low contrast, it can be difficult for many people to enjoy the same range of activities available to those with 20/20, uncorrected vision.
To make gaming more widely accessible, experts at Lenstore have conducted a study into which top-rated games offer the most support for those with visual impairments.
We gathered data from the highest-rated games on Metacritic that offered support for colour deficient players and took a look at the different features they offered gamers to find the most accessible video game. The most popular games for 2020 were also anaylsed to find out how equipped they are for disabled players and highlight their lack of accessibility.
The supporting features we analysed ranged from the colour deficient options, the ability to resize the user inference, and the ability to change the controls to ensure that all needs are met.
Top games for accessibility
The table below highlights the most accessible games and have been scored on what options they offer players: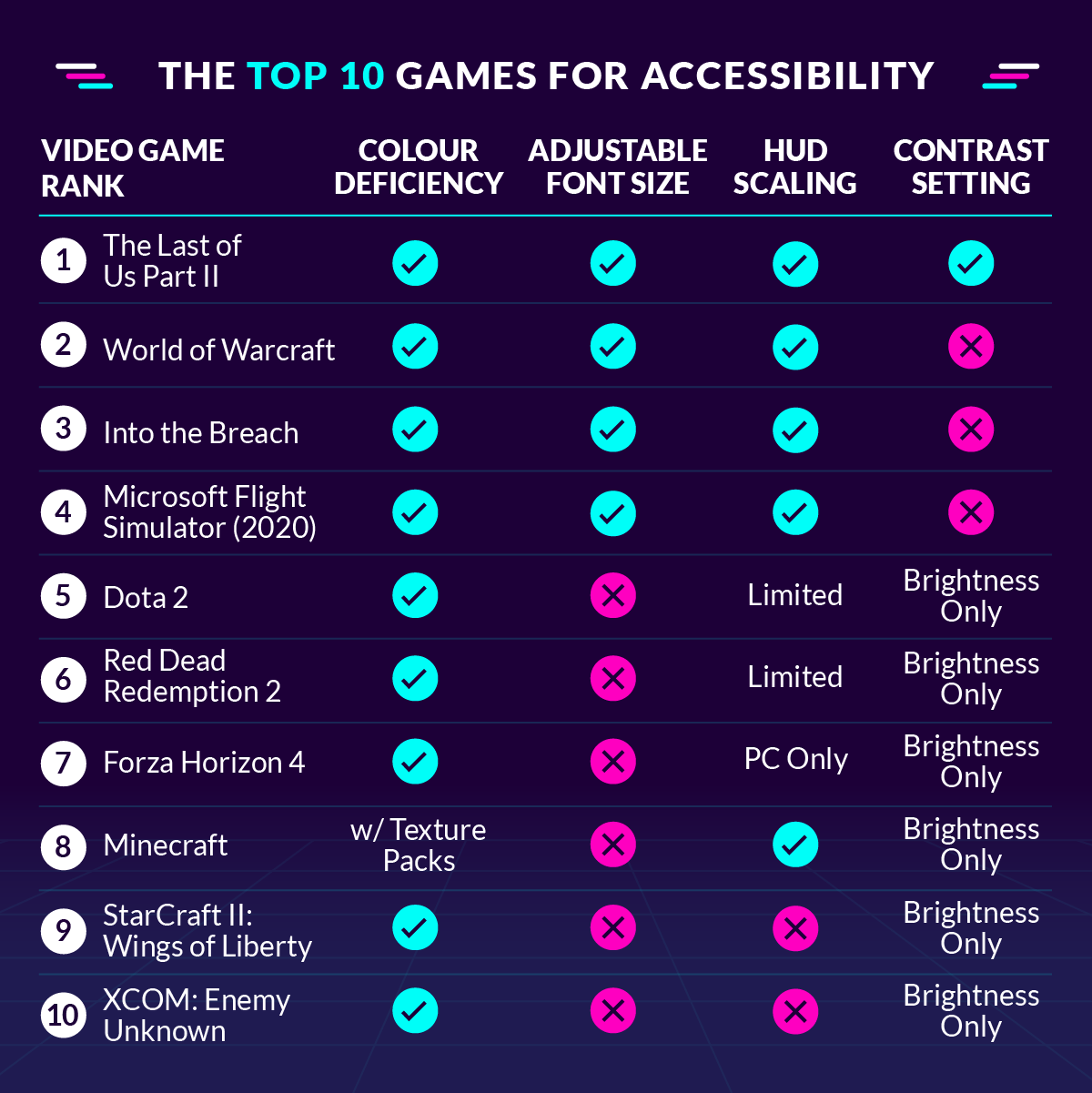 Adjustable Font Size:The ability to change the size of text in-game.
HUD Scaling:Whether the user interface can be changed to a different size.
Contrast Setting:Whether there is an inbuilt control over the level of visual contrast (difference between dark and light colours).
It's no surprise that 2020's The Last of Us Part II proved the most accessible: the publisher, Naughty Dog, set out to create a game accessible for as many as possible, and as well as the vision accessibility options, the game includes a wide variety of hearing and motor accessibility setups.
As well as offering the most complete selection of accessibility options, the game is also one of very few in the industry with native support for Text-to-Speech and offers a number of specific gameplay features to skip puzzles, avoid falling, and hide from enemies that are designed to meet the needs of those that are visually-impaired.
The colour deficiency support includes filters for Protanopia, Deuteranopia, and Tritanopia, as well as customisable HUD colouration.
The Last of Us Part II is, however, only available on PlayStation 4. The next most accessible game, World of Warcraft, is only for PC players, but is one of the longest-standing games on the list, having been released in 2004.
With a resizable interface and customisable controls, the accessibility options make WoW a great game for those with limited vision. The game also doesn't require a need for aim or real focus on field of view, which can hinder the ability of those with a visual deficiency from playing. WoW's lack of need for adjustments, like first-person shooters, makes it accessible from the start.
For players on the Nintendo Switch, Into the Breach provides a strategy game with slow gameplay and easy-to-read interfaces, and although its top rating is for PC, it's available on the smaller, transportable console as well.
For Xbox One players, Microsoft Flight Simulator is the most accessible game, though it's rated higher on PC due to the complex control requirements. In some views, you're able to change the field of view (a measure of how wide your peripheral vision is), and filters are included for Protanopia, Deuteranopia, and Tritanopia.
How game developers can create more accessible games
Games development is constantly evolving, and the number of accessibility options included in a popular, mainstream game like The Last of Us Part II is a testament to how the industry can build their products to support all players.
In particular, options like adjusting text size and the heads-up display, should be standard in all games, while developers who are able to incorporate Text-to-Speech support will find a grateful player base.
Other potential adjustments include:
Lock-on aim, where shooting or weapon targeting is required
Audio cues for movement and combat
Ability to skip certain sections that are harder for those with impairments
Ability to adjust contrast levels beyond that of the gaming platform
Customisable difficulty levels, so players can choose how challenging the game is
Accessibility in recent games
While the top games of all time offer some of the best accessibility, it doesn't necessarily mark a trend in the gaming industry.
The following games were the top rated in 2020 and have been ranked by how they stack up when it comes to supporting those with vision impairments: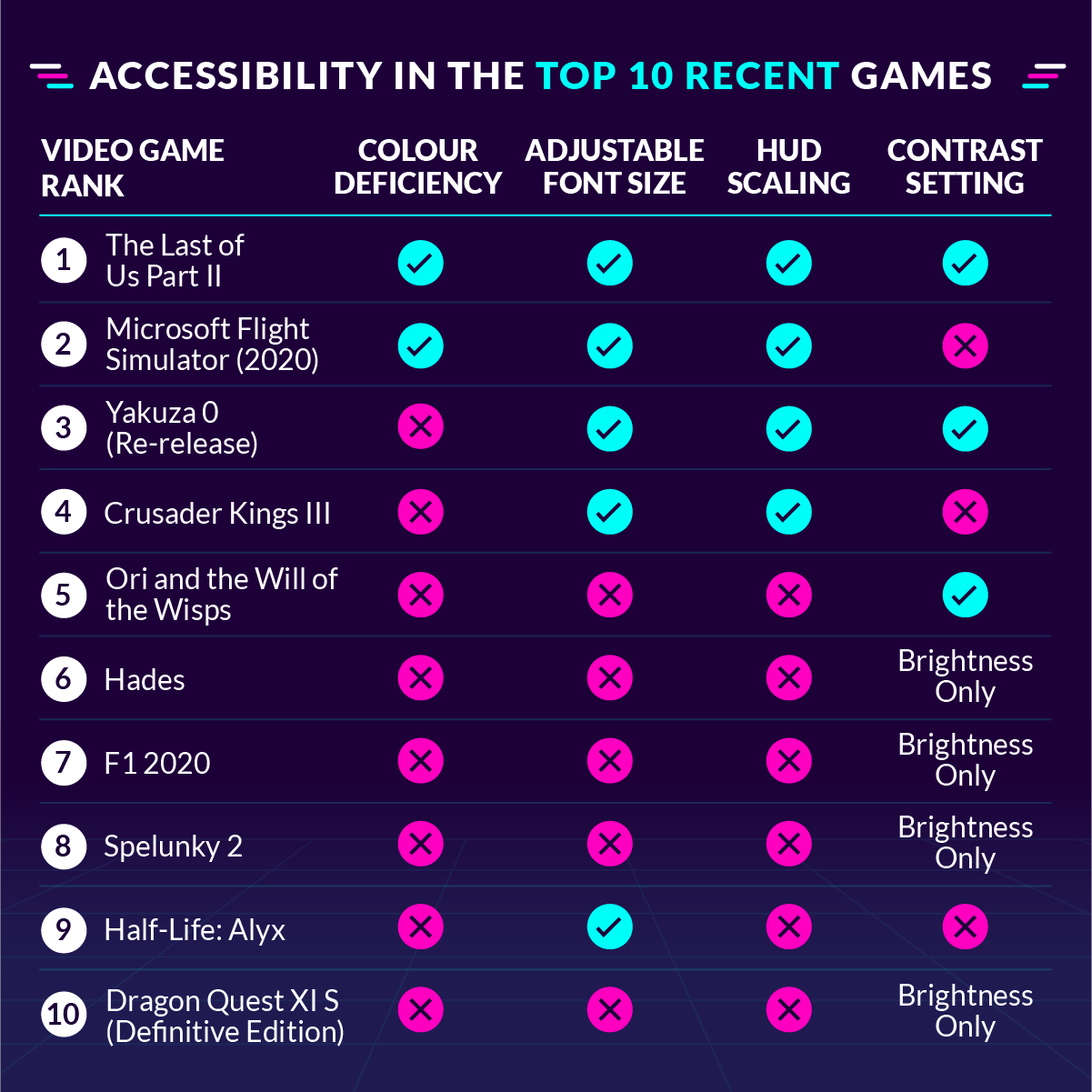 It's immediately clear that games with support for colour deficiency aren't as widespread as they could be. While games which also appeared in the most accessible games list, like The Last of Us Part II and Microsoft Flight Simulator, offer distinct modes to support vision-impaired users, other popular games like F1 2020: Spelunky offer no setting options at all, and instead rely on what can be changed on the console.
Interestingly, Half-Life: Alyx, which is a virtual reality game requiring the use of a headset, possesses some limited accessibility features including some not listed here, like playing with only one controller or reducing the intensity of lighting effects, which would benefit those with motor impairments and who experience negative reactions to flashing lights.
Although it didn't make it into the top-rated games (the PC version scored the highest on Metacritic at 85/100), Cyberpunk 2077 was the biggest digital game launch of all time. Recurring bugs and underdeveloped systems drove the score down, but how accessible is it? Players can expect multiple aim assist options, including an enhanced "snap to target" function, as well as the option to remove weapon sway. Text size can be adjusted, and filters for protanopia, deuteranopia and tritanopia are all available.
Board games that are accessible to the most visually-impaired
It's not just video games that can be made accessible to those with visual impairments. Board games offer activities that can be played with friends and family without a screen, and often with only minimal adjustments.
With the pandemic forcing many to stay at home and people finding new ways to spend their time, board game popularity is on the rise.
These are the top ten board games (based on rankings from Board Game Geek (BBG)) which are either suitable for all or can be adapted for play by anyone with vision impairments: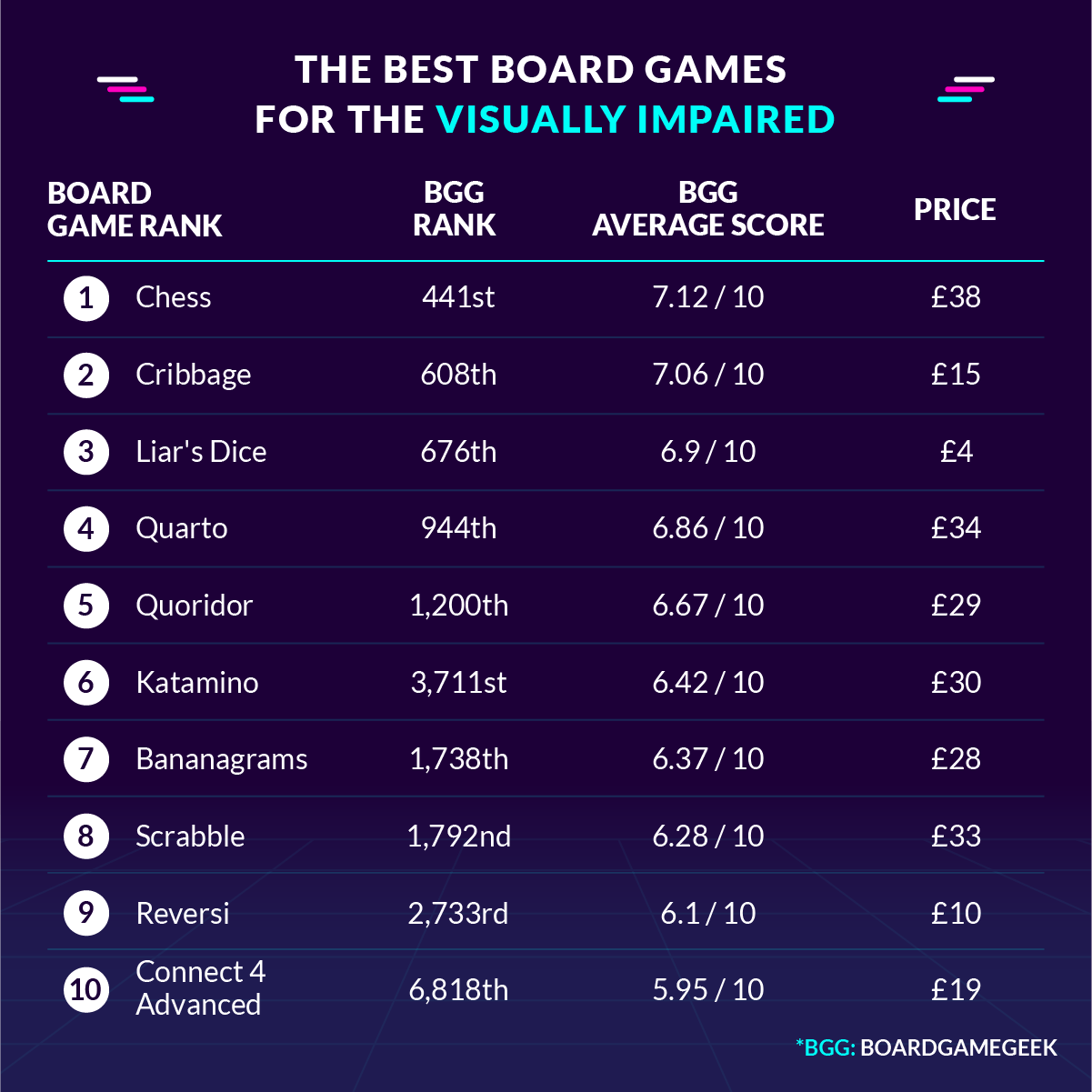 Chess is a familiar game to all, and because of the different shapes of pieces and the regular layout of the board, it's almost completely accessible already. The only change needed is a tactile means of identifying white pieces from black, and it's possible to buy sets with this change already made.
Cribbage, which is primarily a card game that uses a tactile scoring system, only requires that braille cards be used alongside a traditional board and that a small adjustment be made to the rules - where the rank of each card is announced as it is played as well as the value.
Liar's dice is fundamentally just a dice-rolling game based on bluffing to your opponents, which makes it easy to adapt with the use of readily available tactile dice.
Quarto, a game played with a small board and shaped pieces, needs only some tactile adjustments to differentiate between white and black pieces - it's possible to buy "bumpons" which can be applied to the game. The aim is to line up 4 pieces with the same height, shape, colour or design - but your opponent decides what piece you have to play.
Quoridor can be played with two players with the adjustment of adding Velcro to secure the pieces to the board. The aim is to get your pawn to the other side, and it requires very little work to adapt a standard set.
Although modern games, like The Last Of Us 2, show that game developers are starting to give thought to providing a better gaming experience for the millions of players that are visually-impaired, the lack of adjustable accessibility options in the top rated games of 2020 highlights that there's still a way to go.
With developers not offering players the option to change basic settings such as font size, contrast adjustments and user interface scaling - all of which can be extremely helpful for visually-impaired gamers - these oversights can make the world of difference and be the deciding factor between an enjoyable experience and a frustrating one.