Eye Care Expert Q&A
We understand that wearing contact lenses comes with a little extra care and attention, and you'll probably have questions along the way. 
That's why we have a team of fully-trained experts on hand to help you look after your eyes between visits to the Opticians. Here's Deepak, answering our three most-asked eye care questions. 
Meet Deepak...
Deepak is our in-house Dispensing Optician. When he's not passing on his years of knowledge (10 to be precise) to our Clinical Team, you'll find him reviewing new products or helping our customers get the most out of their lenses.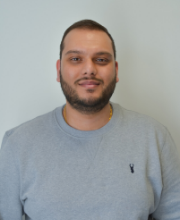 What would you be if you weren't a Dispensing Optician? A Golf Pro. I'm still working on it… 
How do you stay abreast of changes in eye care? Taking part in as many webinars and seminars as possible (I attended a seminar on low vision aid and paediatric dispensing this past weekend) and signing up to subscription Opticians publications.
What eye care tech are you geeking out on? Dry Eye treatments — specifically heated eye masks — have been a huge area of focus for me. This kind of heat therapy works to soften the oils in your eye, allowing them to flow freely and stabilising the tear film.
Back to our top FAQs... Can I switch from daily to monthly lenses?
Yes, you can. If you're considering switching lens type, brand, or the way you wear your lenses, you'll just need to visit your Opticians first. 
Contact lenses differ in material, as well as common measurements like base curve and diameter. They also have different wear and care requirements. Your Optometrist will check the suitability of the material and fitting parameters, the vision and comfort, and also advise on cleaning and storing the lenses with an appropriate contact lens solution and case. 
Does base curve and diameter matter?

Yes, the base curve and diameter are important parts of your prescription. Together, they determine how well the contact lens fits your eye. Think about it like this: just as one shoe size doesn't fit all feet, one contact lens doesn't fit all eyes. 
If the curvature of a contact lens doesn't match the shape of your eye, you could experience discomfort, blurry vision or even damage to the eye. A properly fitted contact lens should also cover the corneal area of the eye (the clear, protective outer layer), which is why the diameter is important. 
Even the smallest difference in the base curve and diameter measurements can affect how the contact lens sits on your eye. 
Can I buy coloured contacts that correct astigmatism? 

Only a small selection of lens manufacturers produce coloured contacts for astigmatism (aka toric lenses) due to the number of parameters required.  
Like all lenses, it's really important that you only buy them from a reputable retailer to ensure they're safe for your eyes. I recommend visiting your opticians to discuss the options available. If you have mild astigmatism, your Optometrist may be able to compensate your prescription powers to eliminate the need for toric lenses.