The cornea protects the iris and pupil, while providing much of the eye's focusing power.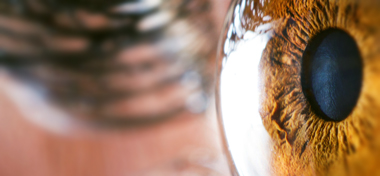 The cornea protects the iris and pupil, while providing much of the eye's focusing power. Dome-shaped and clear, the cornea covers the pupil, iris and anterior chamber.
The cornea is transparent in order to refract light correctly. The presence of even the smallest blood vessels would interfere with this. Any cloudiness or opaqueness can heavily interfere with vision.
The cornea also serves as a filter, screening out damaging ultraviolet (UV) wavelengths in sunlight. Without this protection, the lens and retina would be susceptible to injury from these UV rays.
Nourishment of the Cornea
The cornea has many layers of proteins and cells. It has no means of blood supply, meaning it must be supported by other sources.
The aqueous humor is one source of nourishment for the cornea, bringing metabolic supplies such as glucose. It flows through the leaky barrier presented by the endothelium and enters the stroma, before delivering its contents to the cells there.
The cornea is also nourished by oxygen. The oxygen supply comes from two directions; in front where the tear film is in contact with the outside environment (or the conjunctiva during sleep), and from the aqueous behind.
Anatomy of the Cornea
The five layers of the cornea consist of:
Epithelium - The outermost layer, which helps to prevent impurities from entering the eye. The epitheliumIt is made up of five or six layers of cells that are bound together tight enough to be waterproof.
Though the epithelium only constitutes around 10% of cornea's volume, it consumes 40% of the cornea's total oxygen requirement. Scarring cannot occur on this layer, as the epithelial cells regenerate with an average life of one week.
Bowman's Layer - Made up of protein fibers, the Bowman's layer is tough, helping to shape the rest of the cornea. Made up of strong, layered protein fibers called collagen, this layer is able to scar through injury.
Stroma - By far the thickest layer of the cornea (90% of the corneal thickness), the stroma consists of 78% water. The stroma also contains keratocytes, which help to repair the cornea if it gets damaged.
Collagen makes up 16% of the stroma, helping to give the cornea its elasticity and form. The unique shape, arrangement and spacing of the collagen are essential in producing the cornea's transparency.
Descemet's Membrane - This membrane acts as another protective layer against impurities and injury.
Endothelium - The innermost layer, the endothelium regulates the fluid in the cornea. Pumping excess fluid out of the stroma, the endothelium ensures that the stroma remains clear and haze-free.
While the cornea contains no blood vessels, it is filled with sensory nerve fibres. Pain receptors in the cornea have been suggested to be 300-600 times more dense than skin, making injury to the cornea extremely painful.