Buy Contact Lenses Online
93.6% of Orders Ship Same-Day
Excellent
5 stars
9.5 out of 10 based on
46,955
reviews
2 days ago
Cheapest ive found and quick delivery
Andrew
2 days ago
We received prompt and accurate service, and would use this service again without hesitation.
Laurel
2 days ago
Perfect , intime, efficient delivery.
Anonymous
2 days ago
Cheap but pretty good items
Hao
2 days ago
Straightforward advice for complex toric lenses
Andrew
2 days ago
Ordered lenses in the afternoon (tracked royal mai) and they arrived the following evening. Brilliant.
Graham
2 days ago
Excellent delivery and customer service
Emma
2 days ago
Prompt delivery
Andrew
2 days ago
Astonishingly competent and efficient service... Faith in Mankind restored...
Robert Frank Whitmer
3 days ago
Great quick service
Keith
3 days ago
Easy to use website. Quick and punctual delivery. Variety of lenses available.
ED'S
3 days ago
I was desperate for more lenses and they arrived within 24 hours. The price was very comptetitive. I will definitely use them next time.
Bernadette myopic!
3 days ago
Great service, perfect.
Rory GILLETT
3 days ago
User friendly website & excellent customer service. Can't fault them.
Judy
3 days ago
Perfect. Fast delivery. Straight forward.
Jaz006

About Lenstore.co.uk
You can shop with confidence when buying your contact lenses from Lenstore.co.uk.
We don't stop caring about your eyes once your order reaches your door. We're dedicated to providing our customers with the best eye care services. We have an in-house Clinical Team, with Opticians and Optical Consultants. If you have questions about your contact lenses, or about your eye health in general, we're always on hand to help.
So why should you buy from Lenstore? Here are just a few of the reasons why Lenstore.co.uk is the trusted choice of contact lens wearers:
Fast delivery with over 90% of orders shipped on the same day they're placed
FREE eye tests and contact lens aftercare at Vision Express stores throughout the UK
Great value on top brands such as Acuvue, Dailies, Air Optix and other leading brands
If your prescription is up-to-date, but you aren't comfortable with us contacting your Optician, you can buy contact lenses without sending us your prescription. However, it's important that your prescription is kept up-to-date and that you regularly visit your Optician for an eye test.
Our Latest Blog Post
How to recycle your contact lenses with Lenstore
Posted On: March 19, 2019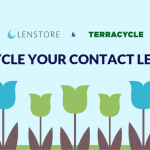 We are the first online contact lens retailer to offer a complete contact lens recycling scheme to recycle contact lenses, blister packets, lens cases and cardboard packaging.
Read More