Buy Contact Lenses Online
93.6% of Orders Ship Same-Day
Excellent
5 stars
9.5 out of 10 based on
47,341
reviews
3 hours ago
Excellent service, works well but without the introductory offer would have been expensive.
Mr AS
12 hours ago
A credit to on-line shopping
Peter
15 hours ago
Good service, contacts arrived quickly and were very comfortable
Helen
15 hours ago
All perfect in every way
Charlie
1 day ago
Excellent service, swift response and courteous staff. Highly recommended
JHewson
1 day ago
Excellent service with next day delivery. Will becre ordering
Stephen
1 day ago
I ordered Macushield Supplement , For my Eyes , No Problems & they came the Next day . Brilliant !
Frank Kerry
1 day ago
Great service
Benita Hodgson
1 day ago
Excellent all round service. Thank you.
Irene.
1 day ago
Best place EVER to get your contacts.
Kristie
2 days ago
Excellent quick service. Thank you.
Mrs c miller
2 days ago
Easy to order, quick delivery, well packaged.
Ana
2 days ago
Excellent service good quality lenses
Susan
2 days ago
I would recommend Lenstore to anyone. I have been with them for a few years now and never been let down or dissapointed.
Christine Stubbs
2 days ago
FAST shipping and a very professional service. I most highly recommend!
Angel

About Lenstore.co.uk
You can shop with confidence when buying your contact lenses from Lenstore.co.uk.
We don't stop caring about your eyes once your order reaches your door. We're dedicated to providing our customers with the best eye care services. We have an in-house Clinical Team, with Opticians and Optical Consultants. If you have questions about your contact lenses, or about your eye health in general, we're always on hand to help.
So why should you buy from Lenstore? Here are just a few of the reasons why Lenstore.co.uk is the trusted choice of contact lens wearers:
Fast delivery with over 90% of orders shipped on the same day they're placed
FREE eye tests and contact lens aftercare at Vision Express stores throughout the UK
Great value on top brands such as Acuvue, Dailies, Air Optix and other leading brands
If your prescription is up-to-date, but you aren't comfortable with us contacting your Optician, you can buy contact lenses without sending us your prescription. However, it's important that your prescription is kept up-to-date and that you regularly visit your Optician for an eye test.
Our Latest Blog Post
Presbyopia - Contact lenses vs glasses
Posted On: April 23, 2019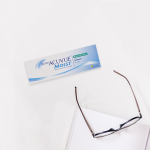 Presbyopia is a completely natural progression of your eyes. Find out how contact lenses and glasses can help with different stages of presbyopia.
Read More