Which ACUVUE® lens is for you?
Whether you're just looking to get started with contact lenses, or have worn them for years and want to try something new, there's an ACUVUE® lens for everyone. If you're not sure which lenses to ask your optician about, we've worked with ACUVUE® to help you decide which lenses may be suitable, based on your lifestyle and wearing habits*.
*These are suggestions only. Please ask your optician what they would recommend, and complete an eye test and contact lens trial before ordering lenses.
I want a fresh pair of lenses every day
ACUVUE OASYS® 1 Day - Daily disposables are a great option if you're looking for convenience. You skip the time consuming cleaning routine that comes with longer-wearing lenses. ACUVUE OASYS® 1 Day lenses release moisture all day, helping tired eyes. They are also made from silicone hydrogel, keeping your eyes healthy by allowing oxygen to flow through the lens. Ask your optician about these lenses if you wear your lenses almost all day every day.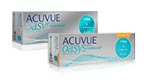 Have astigmatism? View ACUVUE OASYS® 1-Day for Astigmatism

I wear my lenses often, and don't mind having a cleaning routine
ACUVUE OASYS® - These lenses are perfect if you prefer to stick to two-weekly lenses, with a regular cleaning routine. If you wear your lenses all day, ACUVUE OASYS® are made from silicone hydrogel, which allows lots of oxygen to reach the eye. Not only does this provide comfort, but also keeps your eyes healthy, which is particularly important if you wear your lenses for longer periods.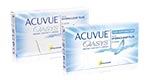 View ACUVUE OASYS®
Have astigmatism? View ACUVUE OASYS® for Astigmatism

I only wear my lenses a few days per week / for specific occasions
1 DAY ACUVUE MOIST - These lenses offer great comfort and moisture until the end of the day, so they are ideal for part time wearers who need them for sport, socialising or day to day activities.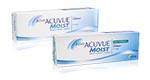 View 1-Day ACUVUE® MOIST
Have astigmatism? View 1 Day ACUVUE® Moist for Astigmatism

I am over 40 and am struggling to read close-up text
1 DAY ACUVUE® MOIST Multifocal - If you have presbyopia and want to enjoy the convenience of daily disposable lenses, ask your optician about 1 Day ACUVUE MOIST® Multifocal. Helping you to focus near, far, and in-between.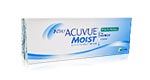 View 1 Day ACUVUE® MOIST Multifocal