Lenstore: our story so far
Lenstore's founder, Mitesh Patel, was recently invited to No. 10 Downing Street. It couldn't have come at a better time, and is the perfect way to commemorate Lenstore's 5th birthday. 
For a young start-up to shoot to such prominence within its first 5 years is a true achievement, and that's why we feel it's time to share Lenstore's story…so far!
From humble beginnings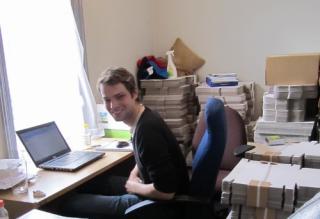 In 2008, buying contact lenses online was relatively unheard of in the UK – and a majority of people didn't even know it was an option. However, it was becoming very popular in Sweden and other European countries. Mitesh and co-founder Olga Nuryaeva found the idea of offering new options to people as to where they could purchase their lenses very appealing. The business model was working in other countries, and there was certainly a gap in the UK market for a leading online retailer of lenses.
As with many start-ups, the first few months of Lenstore's life consisted of a small team working out of tiny 80sq foot office, as you can see in the picture! The website was launched on 11th June 2008, and we received our first ever order that week – thank you Daniela from Surrey!
Lenstore saw very fast growth right from the outset and we were up to 10 orders a day within one month, and reached our first milestone – 1,000 orders – on 5th October the same year.
Expanding beyond 80sq foot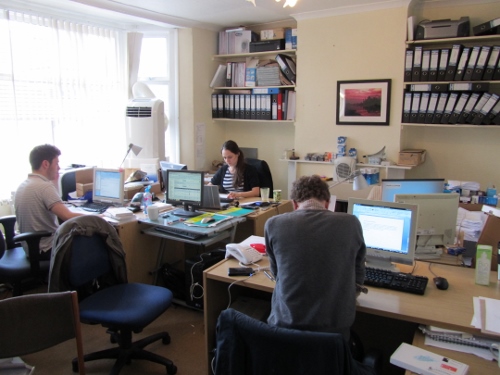 From the very beginning Lenstore had a heavy focus on customer satisfaction. We have always had a 'keep every customer happy' mantra, from making sure our website is easy to use, to offering fantastic customer service and delivery times. This meant that orders were soon flooding in, and we found that we had outgrown our 80sq foot office.
In October 2010 Lenstore moved to a larger building which had office space with a conjoining warehouse facility. One thing that was absolutely clear to Mitesh and Olga right from the beginning was that it was vital that all of the Lenstore team worked together under one roof. Both had seen other companies divide up departments across different locations to cut operational costs, but it was decided that this wasn't the best way for Lenstore to work – both culturally and economically.
The new building offered much more space. We could now keep a much larger stock of products and there was room to house the expanding Lenstore team. This was great because holding larger stock allowed us to dispatch more orders on the same day, which meant our customers would receive their orders faster. 
Today we now hold enough stock to dispatch 90% of orders on the same day, and most of our customers receive their lenses 1-2 working days later which is much faster than any of our competitors.
Around the same time, we developed the technology to estimate the dispatch date for every product that we sell – for every product, and every individual prescription. We developed this to help to make our customers' lives easier, as they would now know straight away how quickly we could post their order to them. 
This was fantastic for us, as we were able to make promises to our customers that we knew we could keep. It also had a huge impact on customer satisfaction – and we now have over 100,000 happy customers, and are still growing!
Keeping every customer happy
Our customers are at the centre of everything we do, and we are constantly looking for ways that we can improve our services to make their lives easier.
As a retailer of a medical product, we have always firmly believed that contact lens wearers should have easy access to professional optical advice between visits to their Optician. That's why from very early on we have had an in-house Clinical Team of qualified Opticians and highly trained Optical Advisors. They work alongside our customer services team to offer professional advice to our customers whenever they need it. 
We also developed 'Your Online Optical Clinic' which is a service that allows customers to login to their own private area of our website, and have all of their optical questions answered by our Clinical Team.
We also know that contact lenses are not the kind of product you can afford to wait around for, and because of this have worked hard to refine our delivery process. We have always pushed ourselves to offer faster delivery times, and last year launched our same day delivery service.  On top of our already fast delivery times, this service means that customers could receive their order to their door just a few hours after placing it.
Moments of glory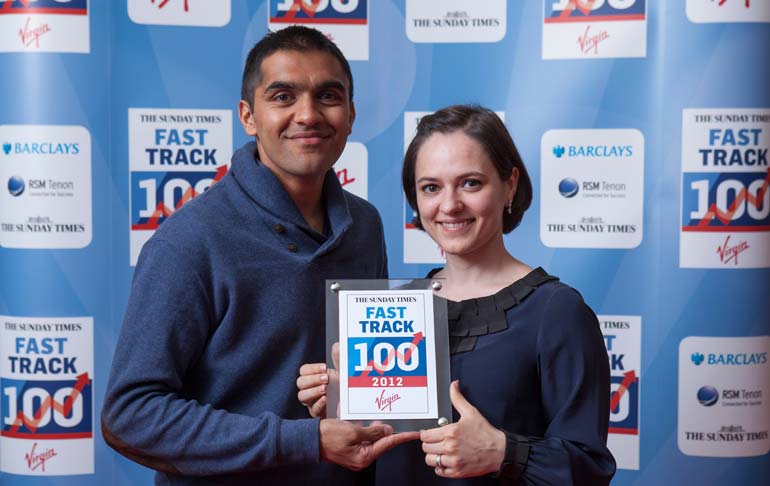 Lenstore's success has attracted quite a bit of attention over the last 6 months. As previously mentioned, Mitesh was invited to No. 10 Downing Street on 5th June to meet the Prime Minister at an event to commend and discuss small businesses in the UK. For Lenstore to be represented at such an exclusive event is hugely motivating for the entire team here.
This followed Lenstore's success at being ranked 10th in the Sunday Times Virgin Fast Track 100 for 2012. According to their league table, we are the 10th fastest growing private company in the UK! 
We believe this is a true testament to the success of our 'keep every customer happy mantra', as we couldn't have achieved this without the loyalty of our customers. In May, Mitesh and Olga visited Sir Richard Branson's house to attend the annual Fast Track award ceremony where they picked up Lenstore's award, which you can see in the picture.
Onwards and upwards
For us, our 5th birthday is a celebration of what has been achieved as much as it is a time to look forward to the future. We believe there are always things you can do to improve service, and the next big thing we have in store for our customers is an Auto Re-Order option, so there will be no need to worry about forgetting to re-order your contact lenses ever again. 
The service will be tailored to each individual, so that you can easily change the re-order date to best suit you. If you're happy with the date, we will take care of everything else, ensuring that your lenses are delivered on time.
Competition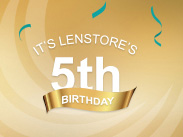 To get our customers involved in our 5th birthday celebrations we are holding a competition! 5 years ago today we launched our website, and received our first order within the first week. We want to give away a year's supply of contact lenses to our customer who places their order of contact lenses closest to the exact same date and time we received our first ever order 5 years ago (GMT time zone).
The lucky winner will save themselves hundreds of pounds, so it's definitely worth placing an order with us and taking part!