The UK's Cyberchondria Capitals
Cyberchondria Capitals: The UK cities where residents self-diagnose using Google the most
Self-diagnosing using the internet is a common activity.
In fact, according to Google's Health Vice President David Feinberg, MD, as much as 7% of Google's daily searches are health-related. We spend a lot of time online, and with such information being so quick and easy to access it's unsurprising that Google is often our first resort.
While there are obvious benefits to having access to this information, there are also consequences. If you've had irritated eyes for a couple of days but don't have the time to attend an appointment with your ophthalmologist, the likelihood is that you'll find yourself on Google searching 'why are my eyes irritated?'. The problem then lies in that the first result telling you that you could have anything from an infection to a brain tumour.
This leaves someone feeling anxious and often going on to search for more information, developing a habit now known as cyberchondria. Cyberchondria refers to excessive or repeated online searches for health-related information and anxiety about health.
Our research uncovers the UK's health search habits, from what conditions are searched for most to the areas where residents are more likely to consult Dr. Google.
UK residents are now 114% more likely to search health-related terms online than three years ago
When it comes to our online health habits, we're now Googling our symptoms and health conditions far more often than we ever were. Since mid-way through 2018, the number of searches for health-related terms has increased by 114%.
There are many reasons why this might be. One is simply that we're seeing a digital revolution where more and more reliable information can be accessed online, and another could be the Covid-19 pandemic leaving us not wanting to put additional pressure on the NHS whilst their resources were focused on treating Covid patients.
Durham is the UK's Cyberchondria Capital
We analysed terms used to search for the symptoms of over 70 health conditions to determine where in the UK people are turning to Dr. Google and therefore likely to be struggling with Cyberchondria.
Self-diagnosis search terms included in the study are 'what are the symptoms of [health condition]', 'symptoms of [health condition]', 'warning signs of [health condition]' and 'how to know if you have [health condition]'. Health conditions used in the study included everything from eye conditions such as cataracts or glaucoma to cancers and sexually transmitted diseases. We compared searches per capita to ensure a fair comparison between cities.
According to our research, Durham is officially the city where residents are most likely to turn to Google to self-diagnose. Having a relatively small population at 47,785, Durham residents often turn to the internet to self-diagnose, searching an average of 10170 times for health-related terms per month.
Chester is the second most-searching city where residents are Googling their health-related terms, seeing an average of 16,990 searches per month. At the other end of the scale, residents in Lincoln, Wakefield and Salford are the least likely to use Google to self-diagnose their conditions.
Top 20 UK cities where residents self-diagnose using Google
| | | |
| --- | --- | --- |
| City | Average monthly searches for health-related terms | Self-Diagnosis Ranking |
| Durham | 10170 | 1 |
| Chester | 16990 | 2 |
| Glasgow | 211,140 | 3 |
| Worcester | 12310 | 4 |
| Ely | 2130 | 5 |
| Truro | 2140 | 6 |
| Chichester | 2350 | 7 |
| Stirling | 2680 | 8 |
| Salisbury | 3080 | 9 |
| Perth | 2790 | 10 |
| Lancaster | 2750 | 11 |
| Ripon | 960 | 12 |
| Inverness | 2590 | 13 |
| Lichfield | 1810 | 14 |
| Hereford | 3320 | 15 |
| Canterbury | 3010 | 16 |
| Winchester | 2410 | 17 |
| Salford | 3770 | 18 |
| Wakefield | 3640 | 19 |
| Lincoln | 5000 | 20 |
The health conditions we're most worried about, according to search data
As part of our analysis into the way the UK searches for health related terms, we collated a list of the most common health conditions.
This list was then run through Google's Keyword Planner using terms that would be used by someone to find out whether or not they symptoms they're experiencing are related to that health condition such as 'what are the symptoms of [health condition]'.
Our analysis revealed that diabetes is the condition we're checking for the most in the UK, followed by mental health related conditions such as anxiety and depression.
The flu, lung cancer, chlamydia and high blood pressure are all in equal fourth place, with an average monthly search volume of 60,500.
When it comes to eye-related health conditions, we're most worried about the symptoms of glaucoma, a condition where the optic nerve becomes damage. Symptoms for the condition include severe headache, eye pain, nausea and vomiting.
The second most searched-for condition is dry eyes, with the UK searching on average 10,020 times per month. People experiencing symptoms of dry eye may have stinging, burning or scratchy sensations in their eyes, sensitivity to light and eye redness.
Dry eyes can be exacerbated by wearing contact lenses for long periods of time and be a key reason those who wear them switch back to glasses. But there's many practical and simple treatments for avoiding dry eyes, such as wearing lenses made from silicon hydrogel or daily disposables.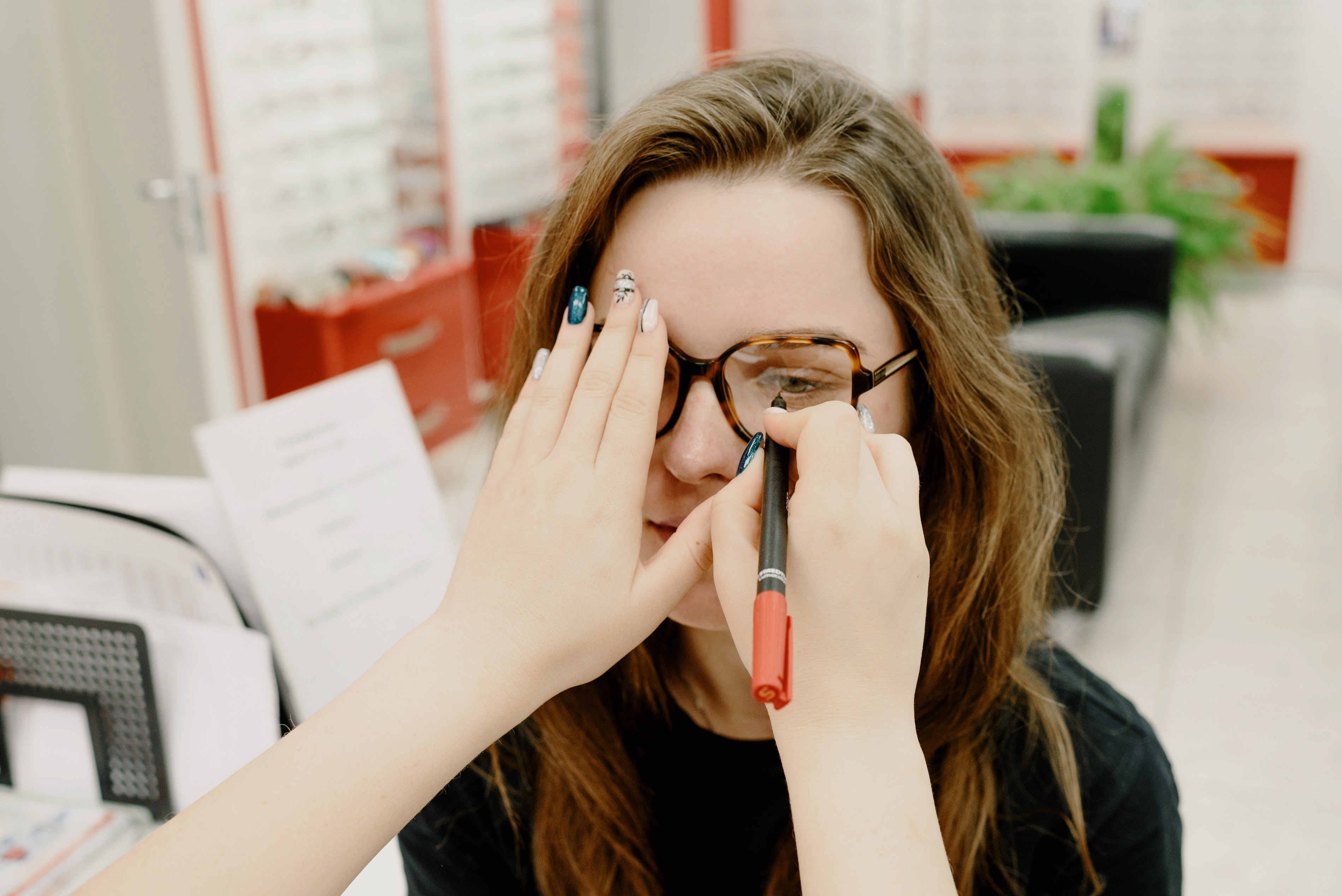 How to know when it's time to consult a professional
Searching symptoms online might be a more convenient option, and something that we do to quickly gain peace of mind that what we're experiencing is completely normal and not symptoms of a serious condition.  
However, if the search results tell us this is the case, we may skip the doctors and risk missing something that could have been an early indicator of a potentially life threatening disease.
Or, what we often find is that the information provided could lead us to believe that our symptoms are more serious. This kind of result could make people avoid seeing the doctor because they fear bad news is coming and can even be incredibly anxiety-inducing.
The bottom line is that if you're worried enough about your symptoms to be searching them online, then it's time to consult your doctor or request an appointment with an optician. They have access to your medical records and can order test, confirm a diagnosis and give you true peace of mind.
Methodology
To uncover the findings, we created a list of the most common health conditions and combined these with terms used by people searching for information around whether or not they're suffering with symptoms of said condition. Examples include:
'what are the symptoms of [health condition]'

'symptoms of [health condition]'

'warning signs of [health condition]'

'how to know if you have [health condition]'
These terms were then run through Google's Keyword planner to uncover how many people were searching for them in the UK's 20 most populous cities.
We then ranked the cities based on where residents were searching for their symptoms most on Google per capita (to ensure fair comparison).