Daily vs monthly contact lenses: which is better?
Nowadays, there are lots of different types of contact lenses. Choosing the right one will depend on your lifestyle and prescription. 
Daily disposables and monthlies are the two most popular types of lenses. As their name suggests, daily disposables are for one-time wear, while monthlies are worn for up to a month before being replaced with a new lens. 
Both have their benefits, and each offers something different. Here's a look at how dailies and monthlies measure up in terms of comfort, convenience, cost and health. 
Comfort
Contact lenses have come a long way in terms of comfort. Most modern-day lenses are either made of hydrogel or silicone hydrogel. Silicone hydrogel is an advanced material that allows up to five times more oxygen to reach the cornea, keeping the eyes healthy and comfy for longer. This makes silicone hydrogel an excellent fit for longer wear lenses, like monthlies or bi-weeklies.
Dailies are typically made with a thinner, more flexible material than monthly lenses. However, silicone hydrogel is now widely used in modern daily disposables, too. As well as offering high levels of hydration and comfort, they also have the advantage of easier handling. This helps to make inserting your contact lenses simpler than ever.
Convenience
Dailies are as fuss-free as contacts come. You can simply bin the lens at the end of a full day's wear without the hassle of cleaning or buying solutions. This ease-of-use makes them a popular choice for anyone with a busy lifestyle. If you like to switch between specs and contacts or only wear lenses on weekends for sports or socialising, they give you the freedom to do so.  
On the other hand, monthly lenses need to be cleaned and stored correctly overnight before their next use. Some types of reusables can be worn continuously for up to 7 days. This flexibility is convenient for people with unpredictable lifestyles, like shift workers, who aren't always able to clean or handle their contacts. Extended wear lenses are not suitable for everyone, so be sure to speak to your optician before switching. 
Cost-effective
When choosing a lens, it's wise to consider how often you'll wear them. Despite the need to also buy contact lens solutions, monthlies are considered the cheaper option for the full-time wearer. If you prefer to alternate between specs and lenses, daily disposables may be a more cost-effective option and we have a range of cheap contact lenses for you to choose from.
Health & hygiene 
Our eyes produce lipids and proteins that can gradually build up on your lenses over time and cause discomfort. Daily disposables are considered the healthiest choice because there is no day-to-day build-up of deposits. They come ready to insert in individual, sterilised blister packs for one-time use. Dailies are ideal for anyone susceptible to seasonal allergies because they minimise pollen build up. 
Monthlies are also a hygienic choice providing you practice proper lens care. It's easy once you get into a routine. You can find tips for cleaning your monthly lenses here. 
Eco-friendly 
Monthlies are often perceived as more environmentally friendly because they're replaced once a month rather than every day. However, lens manufacturers are continually evolving their processes to minimise waste and make more materials recyclable. Nowadays, soft lenses, blister packs, cardboard packaging and lens cases can all be recycled using a local scheme.
As part of our ongoing environmental commitment, we've teamed up with TerraCycleUK to offer a free recycling service. We've had to pause drop-offs for the time being, but we hope to be back up and running as soon as it's safe.
If you don't have access to a local recycling scheme, you can still do your bit from home. It's a good idea to check with your local authority what materials can be recycled, but here are some helpful guidelines:
What can I recycle at home?
Old blister packs (without the foil lid)

The cardboard packaging that your lenses come in 

Solution bottles and old lens cases
What can't I recycle at home?
Contact lenses are too small for household recycling. The best thing you can do with them is to throw them in the bin. It's important never to flush your lenses down the toilet because it can contribute to pollution of marine environments. 
The foil lid on blister packs can't currently be recycled at home. 
What are bi-weekly contacts?
Biweekly lenses are replaced every two weeks. Also known as two-week disposables, they blend the affordability of monthlies with the hygiene perks of daily disposables. 
They're replaced more frequently than monthlies, so you'll start with a fresh pair every fortnight. This makes them ideal for anyone who finds longer-wear lenses uncomfortable towards the end of their lifecycle. 
Bi-weeklies require more upkeep than dailies, so you'll still need to clean and store your contacts at the end of each day. However, they benefit from being of excellent value, especially for regular wearers.
Can I switch lenses?
Yes, you can. If you're considering switching lens type, brand, or the way you wear your lenses, you'll just need to visit your opticians first. 
Contact lenses differ in material, as well as common measurements like base curve and diameter. They also have different wear and care requirements. Your optometrist will check the suitability of the material and fitting parameters, the vision and comfort, and advise on cleaning and storing the lenses with an appropriate contact lens solution and case.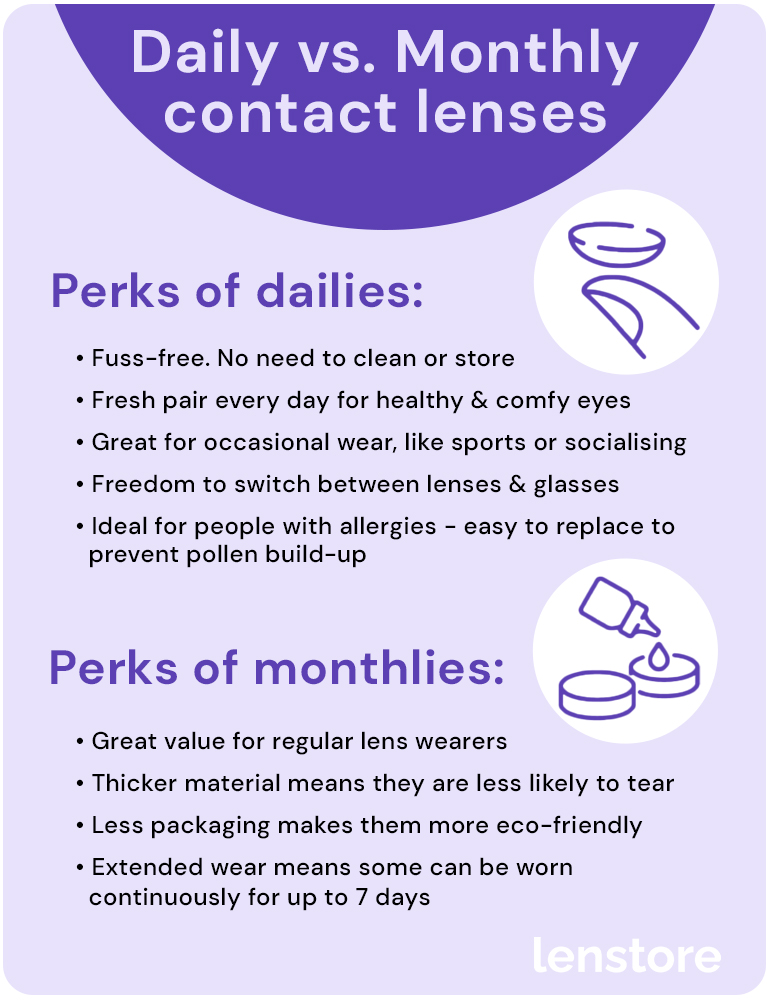 Whether you prefer monthlies or dailies with our range of contact lenses you are sure to find lenses suitable for you. Browse our website and find leading manufacturers such as Acuvue, Alcon & Coopervision at amazing prices.