Your guide to monthly contact lenses
A favourite amongst regular lens wearers, monthly disposable lenses are a fantastic option for those who rely on their lenses for vision correction day in and day out. If you've been considering switching to monthly contact lenses or are just curious to learn more about this popular lens style, get started with this helpful guide. 
Drawing from her background of 20 years in optometry, Head of Professional Services and Lenstore's lead optometrist, Roshni Patel, will kick things off with a short Q&A section on our customer's most common queries about monthly contact lenses.
Ask the expert – monthly contact lenses
What are the benefits of monthly contact lenses?
Monthly contact lenses are a great choice for many reasons:
They are more cost-effective for those who want to wear lenses frequently. 
Reusable lenses tend to cater for a wider range of prescription values, particularly astigmatic parameters.  
They also offer flexibility – for example, if you want to rest your eyes for a few hours, you can just pop them out and put them in a case with solution and put them back in a bit later in the day. 
They are more environmentally friendly as they use less packaging and are reusable.
Can you sleep in monthly contact lenses?
It depends on your prescribed lens type. There are specific monthly lenses that are licensed to sleep in. However, you would need a sign off from your optician to say you are safe to do so.
How long can you wear monthly lenses?
Monthly lenses are suitable to wear for 30 days, and need to be thrown away after that, regardless of how often or little you wear them.
How do monthly contact lenses work?
Monthly lenses are designed to be worn for a month but need to be removed each day and cleaned and disinfected with a soft contact lens solution. The wear schedule and type of cleaning solution required will be discussed with you by your optician, as this will be specific to your eyes and requirements.
Are monthly lenses cheaper than daily lenses?
Generally, monthly lenses are more cost-effective; however, this really depends on your wear schedule. If you are only wearing lenses twice per week, for example, daily disposables would work out better for you. 
If you have any other questions about contact lenses for our in-house experts, feel free to send a message here on our Ask an Optician page.

Details about monthly contact lenses
What vision correction do monthly lenses provide?
As one of the most popular styles, most contact lens manufacturers offer a monthly option for almost every type of vision correction. Depending on which lens your eye care professional recommends, monthlies can be fitted to correct these common vision problems:  
What are monthly contact lenses made of?
Most monthly disposable contact lenses are constructed using two types of water-based polymers – hydrogel and silicone hydrogel. The flexibility and absorbency of these two gel-like materials create a soft lens surface that allows healthy amounts of oxygen and moisture to circulate during wear. 
Find out more about which option might be best for you by reading our detailed article on the differences between these two lens materials here.
What types of monthly contact lenses are there?
Much like daily disposable lenses, monthlies are manufactured to cover a wide range of vision correction needs – with the three most common options being: 
Spherical – uses the same power throughout the lens surface. Suited for people with prescriptions for myopia or hypermetropia, spherical is generally the most common lens type on the market. 
Multifocal – utilising multiple prescriptions into one lens, multifocal contacts allow you to smoothly transition from clear vision near, far, and in between.  
Toric – featuring different powers in sections of the lens, toric contact lenses consider the wearer's eye shape to correct the common refractive error – astigmatism.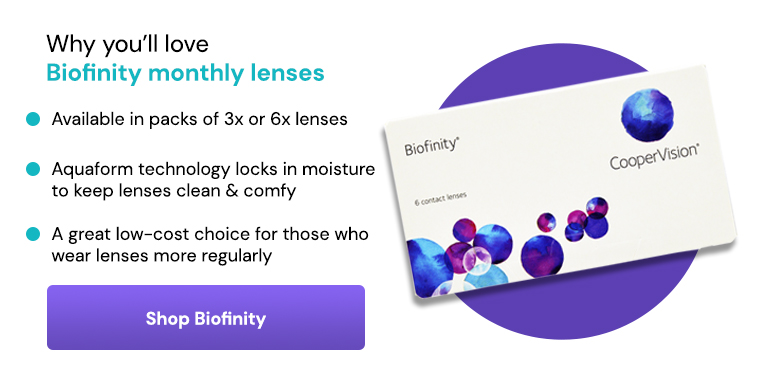 What are the most popular monthly lenses?
With the help of our customer's feedback and ratings, we've compiled a list of Lenstore's bestselling monthly lenses below. If one of these popular picks fits your needs, ask your optician if they're a suitable option to try. 
As one of the bestselling monthly lenses on the market – Biofinity monthlies feature Aquaform technology that offers high-level hydration and breathability in a soft, flexible lens. These silicone hydrogel lenses offer long-lasting comfort throughout the entire month of wear. Also available in packs of 6 lenses per box for additional savings and convenience. 
The newest spherical version from Alcon's family of Air Optix lenses, this upgraded lens features the HydraGlyde Moisture Matrix for an enhanced wearing experience. In addition to HydraGlyde, Air Optix monthly disposables also utilise SmartShield technology to give the lens an ultra-smooth surface to protect your eyes against irritants. Available to order in 3x or 6x lenses per box options. 
Avaira Vitality toric monthly lenses are specially designed to correct astigmatism. Their advanced toric design ensures your vision stays stable, sharp and comfy, no matter how active you are. Featuring Class 1UV protection, they block out more than 99% UVB & 90% UVA rays. 
From CooperVision's bestselling line of lenses, Biofinity toric has all the great features that the spherical version offers but is geared to wearers with astigmatism. An optimised toric lens geometry design keeps the lens secure and stable throughout a day of wear. Available in both 3x or 6x lenses per box versions. 
A 3-Zone Progressive Design makes B+L Ultra lenses for presbyopia a perfect pick to gain sharp vision near, far, and anywhere between. These versatile monthly lenses also feature MoistureSeal technology which keeps 95% of moisture on the lens surface, keeping eyes comfortable for up to 16 hours.  
Another good choice for wearers with presbyopia prescriptions, Air Optix Plus HydraGlyde Multifocal are a monthly-use contact lens from Alcon. Featuring a Precision-Profile design, wearers will enjoy an uninterrupted vision experience of objects at near, intermediate, and far distances. Available to order in 3x and 6x pack sizes.
How much are monthly contact lenses? 
As with all lenses, the manufacturer and style of monthly disposable lenses you need will impact your price point, but on average, monthlies are one of the most cost-effective lens types on the market. When ordering with Lenstore, lens wearers can expect to pay about £20-£30 for a 90-day supply of monthly lenses (3x lenses per box – one box per eye). 
Because lenses for astigmatism or presbyopia have added values and technologies, their base prices are slightly higher than those of spherical contacts. The average lens wearer can expect to pay around £30-£40 for a three-month supply of multifocal or toric lenses. 
If you want to shave even more money off your monthly lens costs, subscribe and save with Auto Reorder to take an additional 5% off every time.
How can I switch to monthly contact lenses?
If you currently have a prescription for daily disposable lenses or are considering trying contact lenses for the first time, the best way to find out if monthlies are a good fit for you is to schedule an appointment with an optician. Following your vision and eye health assessment, your eye care professional will often organise some trial lenses to wear for a set period and follow up to see how you and your eyes have adjusted to the new lens type.  
If you're ready to make a move to monthlies, book your eye test today.