Order Your Lenses In Three Simple Steps
At Lenstore.co.uk, we're on a mission to make contact lenses fast, faff-free and affordable. Our customers love us because…
Save On Big Brands, Every Time
Shop your favourite contact lenses without the high price tag.

Keep It Quick & Easy
Easily order your lenses in just a couple of clicks, and we'll even post it the same day.

Our Service Doesn't Stop At Your Letterbox
Our fully trained optical consultants are on hand to help you get the most out of your lenses. Plus, all customers enjoy free eye tests and contact lens check-ups.

Never ordered online before? No problem, it's easy and can be done in three simple steps:
Step 1: Find Your Lenses
The quickest way to find your contact lenses is to type the brand name into the search bar at the top and select your lenses from the options that appear. You'll find information on the brand, type of lenses and manufacturer on your prescription.
Alternatively, you can find your lenses by clicking on the 'Contact Lenses' tab at the top of each page. A list will appear on the left hand side, allowing you to browse by brand or lens type. Once you've found your lenses, simply click on the item and you'll be directed to a product page.
Step 2: Enter Your Prescription
Now that you've found your lenses, the next step is to fill in your prescription details. These can be found on the side of your current contact lens box or you can ask your Optician. If you require a different prescription for each eye, you'll need to check both boxes.

If you're not sure what the numbers mean we've added some more information below, otherwise you're good to skip to step three.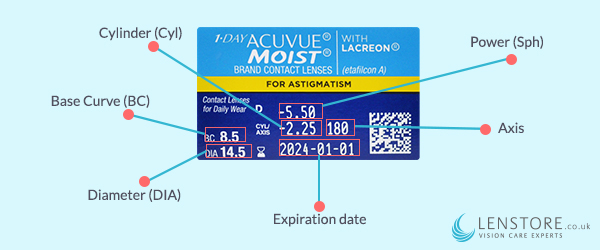 First, you'll need to enter the lens power (also known as the sphere), which defines how strong your prescription is. If you're long-sighted, the number will begin with a plus sign (+), and if you're shortsighted, it will begin with a minus sign (-).
Below the lens power, you'll enter the base curve followed by the diameter. Together, these measurements determine how well the contact lens fits your eye.
Step 3: Check Out
Now that you've entered your prescription, just select the number of boxes you want for each eye and click 'Add to basket'. Here, you'll be able to confirm your order and prescription details before continuing to checkout.
As a new customer, you'll need to create an account with us. It's quick and means you can reorder your lenses in just one click. Once you have created your account, enter your delivery address and payment details, select your delivery method and just click 'Place your order'.
And that's it, you can sit back and relax while we do the rest.
We think you'll find it easy to order your lenses, but if you need any help don't worry our Clinical team is here to help, just ask our Opticians or give them a call on 0800 010 6865.