Looking for long lasting comfort?
Discover which ACUVUE® contact lenses should be best suited to your eyes.
Struggling to
see up close?
Struggling to read the small print? Did you know ACUVUE® Multifocal contact lenses can help you continue see clearly near, far, and in between?1
Daily Disposable contact lenses
Try ACUVUE® OASYS 1-Day and enjoy life with clearer, brighter, sharper*2 vision.
Thinking about contact lenses?
Are you considering trying contact lenses? They can be a great alternative to glasses, and ACUVUE® makes contact lenses for most vision needs.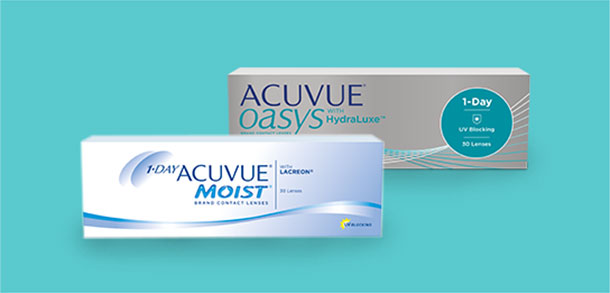 *Enhanced optical design compared to our other lenses.
# All ACUVUE® Brand Contact Lenses have UV Blocking to help provide protection against transmission of harmful UV radiation to the cornea and into the eye. UV absorbing contact lenses are NOT substitutes for protective UV absorbing eyewear such as UV absorbing goggles or sunglasses because they do not completely cover the eye and surrounding area. You should continue to use UV absorbing eyewear as directed by your eye care professional.
†Fitting fees may apply and are not included. 1 trial per person. 18+. Subject to optician approval. Full T&Cs: www.acuvue.co.uk/terms-conditions.
1. JJV Data on File 2021. ACUVUE® PUPIL OPTIMIZED DESIGN Technology: JJVC Contact Lenses, Design Features, and Associated Benefits.
2. JJV Data on File 2017. Visual Performance of ACUVUE® OASYS Brand 1-Day Contact Lenses with HydraLuxe® Technology.
ACUVUE®, ACUVUE® OASYS, ACUVUE® MOIST®, LACREON®, HYDRACLEAR® and HydraLuxe® are trademarks of Johnson & Johnson. © Johnson & Johnson 2021.