Click & Collect
Due to the potential risk of the current COVID-19 outbreak in London, we have temporarily disabled the Click & Collect option as a precautionary measure. We apologise for any inconvenience caused.
Lenstore.co.uk likes to offer its customers as much choice as possible when it comes to shipping options and Click & Collect is one of the newest methods we have introduced. To find out more about Click & Collect times, areas and costs, just read on - and don't forget that our Customer Services Team is always ready to help, should you have any further questions or doubts.
Click & Collect Information
The Click & Collect service is available on orders placed before 4pm, Monday - Saturday and on Bank Holidays. We ask customers to collect their orders before 6pm as we cannot guarantee they will be able to collect their order after this time. For more information on the Click & Collect see below:
| I have ordered on… | …when should I collect my contact lenses? |
| --- | --- |
| Monday to Saturday & Bank Holidays (before 4pm) | Same day |
| Monday to Saturday & Bank Holidays (after 4pm) | Next working day |
| Sunday | Next working day |
How to find us…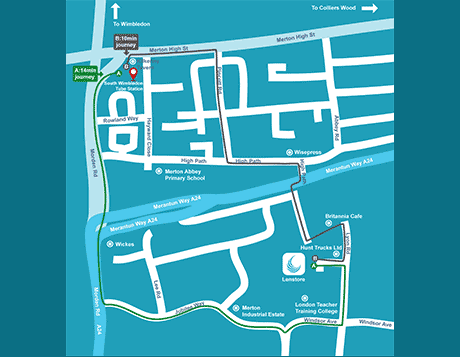 Our address:
Unit A, Gresham Way
London
SW19 8ED
Nearest tube station:
Wimbledon Park (District Line), 5 minute walk
Nearest Main Roads:
A24
A3
Please see the table below for a list of eligible postcodes:
| | |
| --- | --- |
| West | W1, W2, W3, W4, W5, W6, W7, W8, W9, W10, W11, W12, W13, W14 |
| South East | SE1, SE3, SE4, SE5, SE6, SE8, SE10, SE11, SE12, SE13, SE14, SE15, SE16, SE17, SE19, SE20, SE21, SE22, SE23, SE24, SE25, SE26, SE27 |
| South West | SW1, SW2, SW3, SW4, SW5, SW6, SW7, SW8, SW9, SW10, SW11, SW12, SW13, SW14, SW15, SW16, SW17, SW18, SW19, SW20 |
| North West | NW1, NW2, NW3, NW4, NW5, NW6, NW8, NW9, NW10, NW11 |
| North | N1, N2, N3, N4, N5, N6, N7, N8, N10, N11, N12, N15, N16, N17, N19, N22 |
| Western Central | WC1, WC2 |
| Eastern Central | EC1, EC2, EC3, EC4 |
| East | E1, E2, E3, E5, E8, E9, E10, E11, E13, E14, E15, E16, E17 |
If your postcode does not appear in this table your address is not automatically eligible for the Click & Collect method. If however, you wish to collect your order please contact our Customer Services who will be able to assist you further.
Click here to find out more about our Sameday / Express delivery services, or read about our Standard Delivery methods here.
Further Information