Daysoft Alternative
Looking for an alternative to Daysoft lenses? Don't panic, we have affordable options in stock.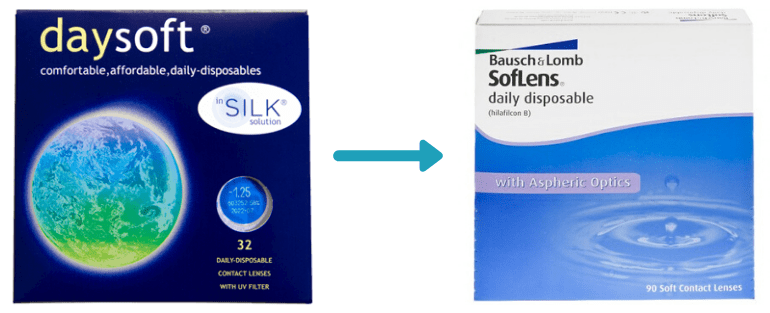 What is the Best Daysoft Silk Alternative?
Our in-house Opticians recommend Soflens Daily Disposable as a great alternative to Daysoft Silk.The two lens types share the same base curve and diameter, giving them a similar fit and feel.
Soflens Daily Disposable are conveniently available in 30 or 90-pack sizes.
Benefits of Wearing Soflens Daily Disposables
Safe & healthy wear
Soflens is produced by Bausch & Lomb, one of the world's leading health care and contact lens manufacturers.
Superior comfort
ComfortMoist Technology combined with a super-moist material creates long-lasting comfort.
Similar fit and feel
Soflens shares the same parameters as Daysoft Silk, so the fit and feel will be very similar.
Convenient and fuss-free daily wear
No need to clean or store – simply throw away or recycle at the end of each day.
Daysoft Silk vs Soflens Daily Disposable
1. Manufacturer
Daysoft Silk is the brand's own line of daily disposable contact lenses. Soflens contact lenses are made by Bausch & Lomb, one of the world's leading health care manufacturers with over 160 years of eye care heritage.
2. Material
Daysoft Silk lenses are made of Filcon II 2, which has a water content of 58%. Soflens Daily Disposable lenses are made from a super-moist hydrogel material (Hilafilcon B) with a high-water content (59%). High-water content enables oxygen flow to the eye to provide enhanced comfort.
3. Technology
Daysoft Silk contact lenses are packaged with an enriched saline solution to provide comfortable wear. As part of the Bauch & Lomb family, Soflens features ComfortMoist technology – a combination of ultra-thin lens design and a slow-releasing solution within the lens to ensure long-lasting comfort. Soflens daily disposable also features High Definition Optics – an aspheric design that provides sharp vision, even in low light.
Why Choose Lenstore?
Ordering contact lenses with Lenstore is fast, faff-free and affordable. Over 50,000 customers have rated us Excellent on Trustpilot. They love us because…
Save On Big Brands, Every Time
Shop your favourite contact lenses without the high price tag.
It's Quick & Easy
Order your lenses in just a couple of clicks.
Our Service Doesn't Stop At Your Letterbox
Our fully trained optical consultants are on hand to help you get the most out of your lenses. Plus, all customers enjoy free eye tests and contact lens check-ups – worth up to £60.
Get Advice From Our in House Opticians
If you have any questions, or would like more information, you can get in touch via our Ask Our Opticians service.